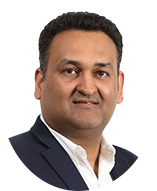 Kunal Puri
Head, Customer Success
Infosys Equinox
Adopting a human-centric approach elevates engagement levels and gets the retailer or consumer brand closer to the consumer. The first article in this two-article series used several examples to highlight this reality. This article showcases the human-centric approach that Infosys Equinox has taken to help companies on that path.
Infosys Equinox keeps the human at the center
We conceptualized Infosys Equinox and moved the human factor to the forefront by positioning it at the center of all transactions. This shift in approach empowered consumers to control their journey.
Infosys Equinox has enabled our retail and consumer goods clients to address not just the overall ask for a contextualized, personalized, rich, real-time user experience but also delivered unique experiences for their customers. In addition, we understand that consumer engagement varies across industry segments and have embedded industry-specific nuances into each client engagement.
Different strokes for different folks / In step with industry-specific needs
Launching a virtual try-on for a top jewelry retailer – When the lockdown forced retail shops to remain closed, our virtual try-on using virtual personas generated sales for the retailer, timely intervention during a period of bleak sales.
Enabling repeat prescription orders through a non-traditional purchase channel – An essential oils company relied on repeat orders for boosting revenues. Through Infosys Equinox, the company launched a model that allowed a customer to place orders through not only the website or app but also through the much used messenger app. This change opened possibilities to expand revenues.
Taking value-add to the next level for a major, global CPG firm in the food business – The CPG firm offered several products that went into making a family meal. It aspired to expand its customer base by tapping into those who looked up a recipe without involving a specific brand. By suggesting its product for the recipe ingredients and connecting to a retail partner for purchase, the company expected to elevate the experience. Further, by enabling the recipe to be read aloud and placing orders using the shopper's smart device, the firm undoubtedly created a seamless experience for the end consumer.
What makes Infosys Equinox human-centric
Many aspects come together to make Infosys Equinox human-centric. Its microservices and a future-proof platform make it a digital hub. Infosys Equinox supports traditional platforms (B2B, B2B2C, B2C) and anticipates the evolution of commerce models and is geared to support different and emerging platforms. In essence, it acts as a single digital hub –
allows catalogs to be syndicated on to marketplaces to sell in
supports the scaling up of an app into a marketplace quickly,
helps create miniature apps of the website's existing capabilities to simulate the SE Asian super app ecosystem.
Client engagements demonstrate the human-centric effect of Infosys Equinox better.
A contactless store for an iconic apparel brand, Infosys Equinox, lets shoppers try on clothes at the physical store and check out using an app. The entire shopping experience was carried out without any interactions with the staff, highlighting an effective way to blend physical and digital experiences.
Cementing consumer loyalty during a live event hosted by a large apparel retailer – the retailer hosted a celebrity-led event for its target audience, the teens and tweens segment, to enhance stickiness. With Infosys Equinox, the audience was able to transact and make purchases as this event was happening. By catering to the specific wants of this consumer segment, the retailer boosted loyalty levels.
Creating a comprehensive shopping experience - Infosys used the concept of Live Commerce at a large retailer to build an all-inclusive experience. The shopper was able to make purchases during an event and received advice on how to use it.
The Infosys Equinox platform was designed to cater to the fast-evolving commerce ecosystem. As a result, the flexibility and scalability it offers help retailers adapt to changes easily and quickly. Moreover, thanks to the microservices and headless architecture, Infosys Equinox can take advantage of what is coming up next even though what's next tends to remain unknown.