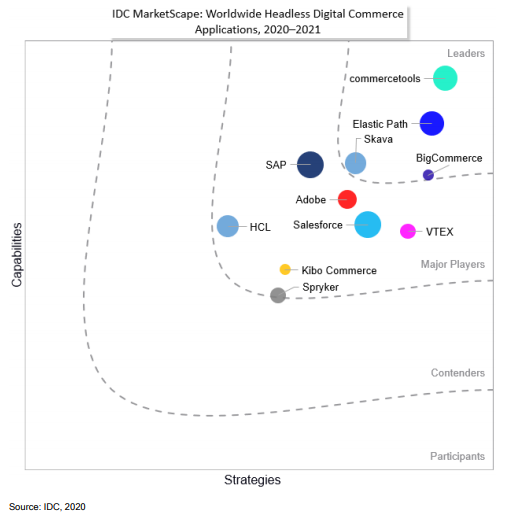 Skava was recently named a Leader in the IDC MarketScape: Worldwide Headless Digital Commerce Applications 2020-2021 Vendor Assessment (IDC #US45741620e, December 2020)
In this assessment, IDC MarketScape looks specifically at vendors providing headless (API-first) digital commerce platforms that satisfy both B2B and B2C commerce requirements. The vendor list for this evaluation consists of 11 vendors and was selected to depict the vendors that are most representative of any given headless digital commerce application buyer's selection shortlist.
Jordan Jewell, lead analyst for this report, recommends Skava to businesses that are midmarket or enterprise organization looking to modernize their legacy platform with a microservices-based headless digital commerce application enabling rich consumer engagement. Also, if they are looking for a high level of flexibility in their commerce technology stack and want an application ready for the next generation of technical advancements.
IDC MarketScape vendor analysis model is designed to provide an overview of the competitive fitness of ICT suppliers in a given market. The research methodology utilizes a rigorous scoring methodology based on both qualitative and quantitative criteria that results in a single graphical illustration of each vendor's position within a given market. The Capabilities score measures vendor product, go-to-market and business execution in the short-term. The Strategy score measures alignment of vendor strategies with customer requirements in a 3-5-year timeframe. Vendor market share is represented by the size of the icons.
IDC MarketScape: Worldwide Headless Digital Commerce Applications 2020-2021 Vendor Assessment
Register to Download the Report