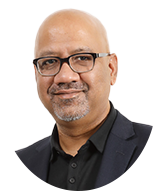 Amit Kalley
CEO, Infosys Equinox
For decades, Black Friday represented the day retailers flipped from "in the red" to "in the black," with the holiday shopping season covering the losses of the year.
Today, it's not just Black Friday, but Cyber Monday, Green Monday, Giving Tuesday, Free Shipping Day and Small Business Saturday that get shoppers excited. With competition high, many online retailers start their "Black Friday" events as early as October 1st! And throughout the year, new product launches, flash sales, livestream events or a simple shout-out from a well-known influencer can send traffic and sales skyrocketing - any day can be "Black Friday."
The biggest concern for any online retailer during an anticipated (or unexpected) sales spike is uptime, because site crashes impact revenue big time. It's best practice to leverage cloud hosting that can scale up or down with your traffic, without hitting bandwidth limits that crash your site and keep customers in the cold. Cloud hosting is brilliant as it enables you to "own your core, and rent your spikes." In other words, you get the benefits of elastic scaling without needing to maintain and pay for redundant hardware year-round.
Beyond elastic scaling, what do retailers need to be ready for the "new Black Fridays" that happen year round?
Flexible promotions
There's one reason shoppers love Black Friday -- deep discounts and special deals. But sitewide sales are often unprofitable. Smart online retailers craft conditional coupon strategies that don't exceed margin, and don't enable customers to abuse or misuse offers. You may need to exclude certain brands and specific products from your sitewide coupon. Depending on your sales event, you may need to build complex rules around shipping, bundling, loyalty point awards or even taxation.
The challenge with complex promotions are they require complex coding! If you're on a multi tenant SaaS platform that doesn't enable much custom development, you may be stuck using stock promotional capabilities. If you're on an aging monolithic platform, introducing new code can be cumbersome, time consuming and even introduce bugs into your system.
For this reason, many online retailers are embracing microservices architecture. Unlike monolithic applications where every component shares the same code base as every other component (for example, an ecommerce platform that contains catalog, search, cart, checkout, pricing, promotions and customer accounts all-in-one), microservices center around a specific set of capabilities. This means they can live "independently" from other services, which makes custom development, updates and deployment much easier. In the case of promotions, complex use cases can be modeled, tested, deployed and turned off without impacting any other piece of the system.
Microservices also scale independently, meaning if a sales event hits your promotional service hard, you won't need to scale your entire ecommerce application (and pay for the bandwidth) to avoid a site slowdown.
Content scheduling
Black Fridays are dreaded by many commerce teams tasked with staging, testing and cutting over site banners, pricing and promotions the night before the big event. Teams that use a headless commerce platform powered by a content management system or digital experience platform can avoid these all-nighters, as all site changes can be pre-loaded, previewed and pre-scheduled right through their front-end site manager. Landing pages, banners, special images and merchandised collections can sync perfectly with any date and time, syncing with time zones, and serving different content to different geographies.
Omnichannel excellence
Today's in-store shopper carries your full digital experience in their pockets, just one tap away. Many have already pre-shopped online before entering your store, equipped with wishlists and promo codes. Others will leverage your digital content to augment their experience in-store and look up customer reviews, compare prices, check inventory availability or play with augmented reality.
During peak sales events, stock can dwindle quickly. Save sales with "endless aisle" capabilities that help customers find sizes, colors and quantities online or in your sister stores through real-time inventory.
COVID-19 gave a boost to BOPIS (buy online, pick up in store) with increased demand for curbside pickup. With masks and social distancing still recommended in stores, supporting curbside and contactless shopping helps customers avoid crowds and queues. Curbside pickup can be made even smoother with SMS messaging and GPS. Text customers with order updates and let them text back when they're outside. Store staff can use their own apps to locate customers' cars using GPS.
Mobile self-checkout
Crowded shops and long queues can hurt sales. Even prior to COVID, retailers lost over $37 Billion per year from customers walking out of long checkout lines 1. 40% of consumers say they prefer to shop 2 with retailers that offer mobile point-of-sale.
Microservices enable scan-and-go checkout within a native app or progressive web app, connecting the camera (for barcode or QR scanning) with products, pricing and payments APIs from your commerce platform.
Conversational commerce
During sales spikes, your customer service teams get overloaded, leading to longer wait times on the phone and live chat. Interactive chatbots can help serve the 80% of customer queries that can be served through instant, automated response, routing only the most difficult queries to your live team.
The best ecommerce chatbots integrate with popular social and messaging platforms, and can serve tracking information, make product recommendations and even handle secure transactions. Essentially, the chatbot is its own "head" (or front-end experience) for your customer. Headless commerce ensures that the data the chatbot needs, be it product information, pricing, account information, customer reviews or tracking numbers can connect seamlessly with the experience.
Wrap up your Black Friday strategy
If it's too late to implement these tactics for Black Friday 2021, the good news is sales spikes happen year round. Make your list, check it twice, and make a resolution to explore commerce technology that supports the promotional, omnichannel, mobile and conversational opportunities in 2022.
References: