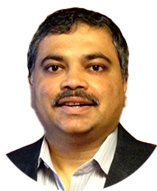 Ashish Udas
CISO and Head of Production Engineering
Infosys Equinox
Post-COVID commerce: technology's role in healthy holiday sales Retailers and D2C brands face a triple-threat of challenges this holiday season. A fragile supply chain, inflation-strapped consumers, and the competitive pressure to discount means merchants must be even more disciplined in their holiday strategies.
While we expect an unpredictable holiday season, and no one has a crystal ball, retail leaders can get by with a little but much needed help from their tech.
How can merchants leverage the power of AI, API-driven commerce services and marketing optimization to survive and thrive through the holiday and beyond?
Mitigating Inventory Risks
Extreme weather, labor disputes and the ongoing effects of the "Great Resignation" are expected to hammer the holiday supply chain.
Lean stock levels mean lower sales and increased customer acquisition and retention costs. For the second consecutive year, retail leaders believe inventory shortages pose the greatest threat to customer loyalty.
On the flipside, delays in the arrival of seasonal goods adds to excess inventory risk (in addition to tightened consumer wallets due to inflation). 56% percent of retail executives expect to be stuck with overstocks after the holidays.
Using Commerce Technology For Optimized Inventory
Endless Aisle
Syncing real-time inventory across digital and physical channels and embedding it into e-stores, mobile apps and in-store kiosks enables buyers to never miss out on available stock. Paired with personalization engines, endless aisle can serve "more like this" alternatives for truly OOS items.
Marketplace Extensions
To bulk up online assortments, many retailers are adding goods from 3rd party sellers or dropshippers to their own digital catalogs. Likewise, 3rd party marketplaces enable merchants to offload overstocked goods. While each serves a different purpose, both marketplace strategies are popular with omnichannel retailers.
Mobile Commerce
As more and more shoppers become "hybrid consumers" (using both digital and physical channels to purchase), mobile devices have become integral to the buying journey. There are many ways to leverage mobile to move inventory. For example, sending push notifications when items in a shopper's online cart or wishlist are almost sold out. Retailers like Sam's Club use Bluetooth beacons to recognize devices with its mobile app, and push alerts to remind in-store shoppers of their frequently purchased items.
Optimizing Incentives For Profitability
While squeezed supply may improve the turnover of goods at full price, inflation is only increasing demand for discounts.
Nearly 55% of consumers plan to spend less on each gift they purchase this year, and 40% will be paring down their gift giving list to save money. About half of shoppers will be waiting for coupons and sales before purchasing anything.
Merchants are responding with aggressive discount strategies. 73% of retail executives say they plan to be more promotional than last year, and 21% plan to be "much more promotional." The challenge is to balance promotions with profits, and right-time and right-size discount offers to the right customers.
Using Commerce Technology For Optimized Incentives
Flexible Promotions
Many digital commerce platforms only provide basic promotion capabilities, and don't support practical promotion rules around coupon stacking, personalized offers, loyalty point rewards or cross-channel discounts. Modern, API-driven commerce services unlock promotional potential, enabling integration with a variety of marketing platforms and retail systems, with the ability to custom-craft business logic.
Dynamic Pricing
Adjusting prices based on real-time sales velocity, competitor prices and regional economic factors is common in travel, hospitality, financial services and grocery verticals, but it can be risky for retailers. While dynamic pricing can protect profits, there's a chance consumer who expect (relatively) stable pricing will be put off by its use.
Still, retailers can still leverage dynamic pricing data in safe and clever ways. For example, to optimize 3rd party marketplace listings, where customers are less likely to notice variance in pricing. Or, to offer daily private discounts or price matching privileges to VIP loyalty members as they browse your website or shop in-store.
One-to-one Offers
Blanket promotions always leave money on the table. Identifying customers who are likely to buy at full price or with a modest discount is an obvious advantage. Enriching customer profiles with consumer genome data (captured from behavior across channels and retailers through a Customer Data Platform), and matching them to "lookalike audiences" unlocks the ability to hyper-personalize and hyper-optimize both pricing and promotions. It also helps you identify customers with high return rates (or other undesirable behaviors) to exclude them from your best deals.
Looking To Upgrade Your Retail And Ecommerce Technology?
Write to us at contactus@infosysequinox.com to discuss the possibilities for your business.