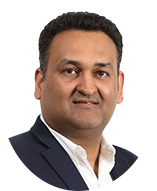 Kunal Puri
VP and Head of Customer Success
Infosys Equinox
Whether it's "pre-shopping" prior to an in-store visit, or sniping mobile coupons while perusing racks, today's consumers see no separation between digital and physical shopping.
"Hybrid consumers" – those that use both online and offline channels to shop – are growing in numbers and purchasing power. Unsurprisingly, hybrid shopping comes second nature to the digital native generation. The National Retail Federation (NRF) reports 37% of Gen Z and 30% of Millennials incorporate digital with physical shopping, as do 27% of all US adults. And retailers are paying attention. What differentiates hybrid consumers from mere "omnichannel" shoppers is their tendency to engage online and offline simultaneously. Serving hybrid shoppers means giving them the best of both worlds and investing in features that replicate the advantages of each.
Making Digital Shopping More Physical
The NRF reports 50% of hybrid shoppers shop in-store for the ability to touch and feel products before buying. While we're several years away from virtual reality devices that deliver a true see-taste-touch-smell experience, a number of technologies exist today that support a more "human" digital experience.
Augmented Reality (AR)
Most late-model smartphones ship with AR capabilities that enable users to overlay digital images and content over their camera viewfinders. Many retailers have already added AR capabilities to their mobile apps and PWAs.
For example, home goods shops like IKEA, Home Depot and Lowe's let you visualize how different pieces look in your actual living space using to-scale 3D images. Fashion and beauty retailers like Warby Parker, Ulta and Farfetch offer "virtual try-on" tools, some with AI "fit-finding" capabilities that suggest products based on your body and facial proportions.
Voice and Conversational Commerce
Brands and retailers are increasingly adding "conversational commerce" to their digital offerings. From simple talk-to-text catalog search to AI-driven virtual assistants, voice gives hybrid shoppers a hands-free way to find information, discover products and transact – fast.
For example, Walmart Voice pairs with Google Assistant to allow shoppers to add groceries to their cart with voice commands. A growing number of brands have built Alexa Skills to support everything from reordering coffee (Starbucks) to a guided whiskey tasting experience (Johnnie Walker).
Live Commerce
The popularity of livestreaming platforms like Twitch, YouTube, Instagram and TikTok has paved the way for a new "home shopping" experience. Already a smash hit in China, live commerce is growing in the West, where 82% of consumers say they prefer to see a brand's live video over social posts, and 85% say they want to see more videos from brands.
Live commerce enables brands and retailers to host live events that are natively shoppable, interactive and engaging. From the comfort of their homes, participants can see live demos of featured products, chat with other viewers, ask questions to the host, and buy without leaving the stream. Early retail adopters report conversion rates up to 30% – 10 times higher than conventional online shopping.
Real-time Inventory
Hybrid consumers shop in-store for instant gratification. The NRF reports 43% shop in-store to get their goods immediately. The ability to click and collect has become table stakes. Bolstered by necessity during the pandemic, it's now an expectation for consumers to have visibility into real-time stock availability and the ability to reserve items or pay before pickup.
Enhancing Physical Shopping With Digital
Despite rumors of a "retail apocalypse," most purchases are still made in physical shops. But retailers need to keep pace with customers to keep them coming. Nearly half of consumers say they're excited about tech-enhanced shopping experiences, and 61% of retailers have "experiential retail" as part of their three-year roadmaps.
Endless Aisle
Connecting store shoppers to online inventory helps save sales from stockouts and enables customers to self-serve. While many endless aisle experiences require customers to use a retailer's site search on a mobile device, scannable QR and barcodes makes finding available items frictionless.
Clever D2C brands can go even further and extend their aisles to include retail partners' stock. Integrating with channel partner inventory to support "infinite aisle" delights brand-loyal customers.
Mobile Self-checkout
"Scan-and-go" or mobile self-checkout apps are ringing up everywhere from convenience stores to luxury boutiques. Served through a retailer's mobile app or PWA, shoppers scan goods to add to their mobile cart, and pay with one tap before they leave the store. While the feature gained traction during COVID, assisting with social distancing, it's here to stay. Customers love the convenience and ability to bypass checkout lines, 44% say they want to shop with retailers that offer the option.
Wayfinding
Taking advantage of mobile's GPS capabilities, retailers like Home Depot offer turn-by-turn directions both to get to the store (for curbside pickup), or to locate items on shelves, connecting to mobile carts or wishlists.
Push Personalization
Location-based messaging (also called proximity marketing) lets you send notifications to mobile users based on their proximity to geofenced areas or Bluetooth beacons. Connecting with mobile app users' profile data and digital browsing history, merchants can share personalized promotions, or award bonus loyalty points for store visits and purchases.
Technology for seamless hybrid shopping
The key to cutting-edge hybrid shopping experiences is unified commerce. Early adopters of retail tech struggled with siloed systems and expensive installations. Today, with digital commerce as the hub, online shopping features can be extended into any in-store or physical experience through headless microservices – APIs that can integrate systems and help them "talk to each other" and serve the right data, content and offers on-demand to shoppers in real time, wherever they are.
Connecting commerce APIs with POS, mobile apps, customer data platforms, inventory systems and loyalty engines (to name a few) unlocks unlimited potential for hybrid shopping experiences.
Looking To Upgrade Your Retail And Ecommerce Technology?
Write to us at contactus@infosysequinox.com to discuss the possibilities for your business.