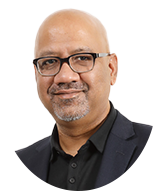 Amit Kalley
CEO, Infosys Equinox
eCommerce businesses have had a dream growth trajectory over the last decade. Accounting for 5% of total retail sales ten years ago, it rose to over 16% in 2019 1. Additionally, the onset of the COVID-19 pandemic in 2020 has changed both consumer shopping patterns and retailer plans by hyper-accelerating the switch to online shopping. As a result, eCommerce share of retail climbed globally, with the US experiencing a growth equivalent to the last decade's growth in the first quarter of 2020 itself 2. In the UK, the growth was fivefold and in other places, the rise was two to five times faster than the pre-pandemic levels 3 . Today, every shopping experience has at least some eCommerce element embedded in it.
Over the last decade, retail has been steadily passing over control to the consumer. Earlier, a retailer relied on a physical store to attract and engage consumers, thus retaining control over the shopping experience. Gradually, as newer channels such as websites, apps, mobile, marketplaces and social media emerged, shoppers gravitated towards them, enticed by the convenience they offered. An average internet user spends almost seven hours online every day across devices 4. Users use the online time to research the products they want to purchase, solicit peer review and searching for the best deal. This has slowly yet surely tipped scales of control over to the consumer, in addition to dramatic shifts in expectations and behavior.
Those retailers or consumer brands that failed to recognize and adapt to the changing preferences were left behind and never caught up with their peers who had reinvented themselves to service more digitally savvy consumers. The digitization of retail has set the stage for a complete transformation of the industry. Hitherto cherished models of engagement and practices are no longer effective – worse, continuing on the same path can quickly push the business into oblivion. Walmart, Target or Macy's successfully embarked on digital journeys. They went as far as reshaping their business models to engage with consumers in the way they expected.
What can you do as a retailer or a consumer brand to survive and thrive in an intensely competitive world of informed and empowered consumers? The business must first accept the shift in the power equation and understand the consumer's digital journey.
Under the broad umbrella of digitization, three trends have had a landmark impact: the rise of omnichannel experiences, the clamor for hyper convenience and the pervasiveness of social media.
A seamless omnichannel experience – For most consumers globally, a good part of the day involves digital content, and is expected only to grow. The average time spent on digital media daily in the US in 2021 was almost eight hours and over four hours in many other countries 5. While the COVID-19 pandemic has prompted increased time spent online, only a marginal decline is forecast once the pandemic subsides. Given this, the consumer's daily digital journey becomes an important aspect for a retailer or a consumer brand. The retailer must be present where the consumer is. Today, it means having a footprint across messaging apps (WhatsApp), video social networks (YouTube, TikTok), social media (Facebook, Twitter), video games and digital assistants (Alexa). Moreover, it is imperative for businesses to provide the same seamless and consistent experience across both physical and digital channels.
From hyperconnected to hyper convenience – Consumers have grown used to a wide product assortment, delivered at a place and time of their choice. As a result, delivery times have shrunk from a few days to under 30 minutes now, while delivery destinations have expanded from home delivery to store and curbside pickups.
Digitally savvy consumers scour through search platforms, marketplaces or super apps for a specific product. However, retailers must go beyond these regular haunts and extend the retail experience to the channels that consumers regularly use for other than shopping purposes. Consumers spend almost four and a half hours a day on smartphones, and 90% of that is on less than 15 apps 6. So, the retail journey, from product discovery to exploration, engagement, attraction, conversion, transaction and fulfillment, must be integrated into these frequently used apps. It could unfold as follows – A consumer, while watching a YouTube video on maintenance of a vehicle notices an ad for automotive oil. Intrigued by the ad, the consumer investigates the product further, and customer service agents address his query through WhatsApp. Now, convinced about the product, the consumer place an order by clicking on the ad. The consumer is motivated to purchase because all interactions happened where he was situated, making it simple for him.
The ubiquitous social media – Across the globe, users spend over two hours a day on social media sites, underlining how integral it has become to our lives 7. A direct fallout is that social media influences a consumer's buying journey and decisions. Thanks to its ability to enhance the word-of-mouth effect, consumers consider products because they are trending. In effect, social media has shortened the buyer's journey by squeezing the awareness phase and guiding the consumer to the consideration phase quickly and seamlessly. Not only that, but a consumer influenced by social media is more likely to purchase the product. Research shows that 54% of social media users use social channels to research products, and over 70% are motivated to buy a product based on referrals or reviews in these channels 8. Therefore, retailers have no choice but to integrate social media into the retail journey.
The key opportunities for retailers from the trends are -
Enable freedom of choice - With a slew of digital channels to explore, consumers do not want to be tied down to a specific website or an app to engage and instead want to choose the engagement channel.
Be where your shopper is - An average consumer's daily digital journey typically includes social media, voice assistants, video games, messaging, websites and apps. The consumer expects the retailer to engage with them during this daily journey across channels.
Provide an omnichannel experience – Despite traversing different channels and physical stores, the consumer wants a consistent, seamless and personalized experience.
Next, what approach must a business adopt to stay relevant in the eCommerce world? Stay tuned for Part 2 to get insights on the changes in store for eCommerce businesses.
References: