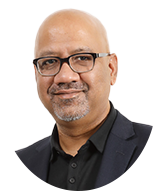 Amit Kalley
CEO, Infosys Equinox
Infosys Equinox, a digital commerce and digital marketing suite, is designed to deliver superior shopping experiences online and in-store. This platform provides the much needed balance between agility and adaptability to help businesses cope with the constant changes in the digital commerce landscape and the rapidly evolving consumer behavior. With this omnichannel platform, enterprises can create rich, consistent, and hyper-personalized experiences for shoppers securely. Part 1 and Part 2 of this three series articles discuss the changes in consumer behavior and the eCommerce landscape and the resultant effect on retailers and consumer brands.
Behind Infosys Equinox lies an investment over several years in building in-house capabilities, strategic acquisitions in targeted areas to gain IP assets and a large partner ecosystem to provide complementary capabilities. These carefully planned initiatives have successfully created a future-ready technology platform.
The platform's offerings are classified under four categories - Equinox Microservices, Equinox Commerce, Equinox Experiences, and Equinox Marketing.
Equinox Microservices - With a headless eCommerce platform at its core, the Infosys Equinox Suite offers cloud-native microservices addressing multiple business models, including B2C, B2B, B2B2C, D2C, online marketplaces, digital malls and super apps. Each microservices provides a specific yet comprehensive business capability spanning domains such as product, profile, transactions, order management, fulfillment, and performance marketing. For example, for the product domain, the microservices available include catalog, pricing, merchandizing, promotions, inventory, search, ratings and reviews. Similarly, the transactions domain offers cart and checkout, payments, tax and address verification capabilities. Owing to how these microservices were conceptualized, a business can acquire advanced functionalities quickly and integrate these microservices with their existing systems through APIs.
Equinox Commerce – All of our microservices combine to become the Infosys Equinox Commerce suite that provides comprehensive omnichannel commerce capabilities, with easy administration tools for both business and IT users. Armed with a responsive web and mobile storefront and simple to use business administration toolset, enterprises can easily deploy the platform to align with their digital strategies. Equinox also has an innovative App Store framework with over 100 apps that can rapidly add to or extend the platform's capabilities.
Equinox Experiences – Despite being a headless platform, the Equinox Suite offers pre-built experiences and digital journeys that are ready-to-use and deliver responsive web and mobile sites. Further, the platform is aligned to modern requirements by offering conversational commerce using AI chatbots, social commerce, live commerce with the Infosys event streaming platform, voice commerce via Alexa or other voice assistants, and IoT via smart appliances. AR/ VR journeys and gamification of various experiences can also be incorporated into the customer journeys using Infosys Equinox experiences.
Equinox also has a dynamic storefront development platform with a WYSIWYG, drag and drop IDE to quickly create unique and dynamic eCommerce interfaces for those who need to set up multiple storefronts speedily.
Equinox Performance Marketing – Using these Equinox offerings, enterprises can promote hyper-segmentation and hyper-personalization across digital channels using AI and ML. In addition, these microservices can optimize their digital marketing spend, with capabilities in media mix modeling, multi-touch attribution and micro-market districting.
In summary, the Equinox suite can significantly upgrade and transform omnichannel commerce capabilities for enterprises while enabling unique digital journeys for consumers.
This is how Equinox provides the perfect balance between agility and adaptability.
What makes Equinox such a powerful digital commerce suite? A set of high-impact features, functional and technical, make this possible. These include -
MECE-components – Microservices from Equinox are guided by the mutually exclusive while collectively exhaustive (MECE) framework, making the capabilities modular in nature for companies to implement. Together, these capabilities address all requirements of an omnichannel business.
Business tooling – Business users can manage the platform behavior without the intervention of IT teams to change code or the configuration. In this way, the platform ensures that business teams can make rapid changes to support business needs.
Supports multiple commerce models – Be it a B2C, B2B, B2B2C, D2C, digital hub or a marketplace, the Equinox suite can be used for all models.
Future-ready – The Equinox suite is a cloud-native and cloud-agnostic platform available to companies as a SaaS offering or hosted on a cloud of their choice, applying the best architectural practices and principles. Each microservice offers the right level of granularity with its own data store and communicates with other components only through APIs via the orchestration layer. Adopting best-in-class practices, the tech stack is built on open-source technologies eliminating vendor lock-ins and allowing extension of the microservices. The platform is built to be high performing, scalable, available and secure, satisfying the pressing needs of today's modern businesses.
The power of two – A high-performance commerce suite, Equinox combined with Infosys' system integration capabilities creates a one-stop-shop for companies to create a highly customized implementation and new business models that deliver tangible business results.
Retailers and CPG companies desiring to transform their omnichannel commerce business and establish leadership must consider Infosys Equinox. Not only that, companies aiming for continuous improvement and evolution can also benefit from Equinox. With its human-centric approach, future-ready technical architecture and integrated ecosystem of platforms and services, it can be the catalyst for your omnichannel journey and help you pull ahead of the competition.