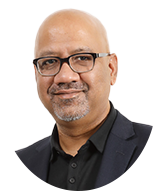 Amit Kalley
CEO, Infosys Equinox
eCommerce businesses globally are in the throes of a rapid growth period. This growth is also witnessing the shift of power to the consumer. A digitally savvy consumer has completely disrupted the retail industry urging retailers to meet expectations and address changing behavior through faster digitization.
Amit Kalley, CEO, Infosys Equinox, talks about the seismic shift in customer expectations and how they want brands to engage with them at their preferred medium of choice and provide a hyper-convenient and seamless omnichannel experience. He shares how businesses are rethinking, and resetting, their digital strategies to adapt and stay relevant in the evolving eCommerce world. Infosys Equinox, with its human-centric approach, future-ready architecture, and integrated partner ecosystem, can enable all of these for brands and help them stay ahead of the curve.