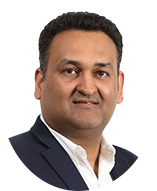 Kunal Puri
Head, Customer Success
Infosys Equinox
Popular streaming apps Periscope, Twitch, and YouTube Live have already captured attention in the West for everything from gaming to gossip. But in China, Live Commerce is generating over $60 billion in sales per year. With nearly 40% of online shoppers in China making at least one livestream purchase, this medium is expected to drive 20% of retail purchases by 2022.
Live Commerce is a mix of the comfort of online shopping and the interactions available in the real world. The lure of Live Commerce is the ability for customers to ask questions and get answers in real time from the safety of their own homes.
Traction in the East -All of China's major ecommerce players offer Live Commerce, including Alibaba's Taobao Live, Baidu, JD.com, Pinduoduo and Yunji, as well as social networks like Douyin (the original TikTok). In 2020, Alibaba's 11.11 Global Shopping Festival attracted 300 million livestream shoppers who purchased US $6 billion worth of goods between November 1 and 11 (2x higher than its 2019 event).
Shoppable live streams turn influencers into home shopping hosts, using their own social platforms and personalities to discuss and demo products. Fans can interact with real-time comments and purchase right from the stream. When Kim Kardashian teamed up with T-Mall to talk about her fragrance line, 13 million viewers tuned in and snapped up 15,000 bottles of perfume in minutes.
Emergence in the West – Live Commerce is already breaking ground in the West. Amazon Live leverages the medium for its Prime Day events, as well as daily slots hosted by brands, influencers, and Amazon's own talent. Amazon's Live App enables marketplace and brand registry sellers to create their own streams for Amazon.
Not to be left behind, Facebook's Live Commerce Fridays series features brands like Sephora, Dolce Vita, and Abercrombie and Fitch. Facebook Business also encourages brands to host their own streams through Facebook Live and Instagram.
Livestreaming trends -
By 2022, live video is expected to hold 17% share of all Internet traffic
80% of consumers prefer watching live video to reading an article, and 82% prefer to see a brand's live video over social posts
85% of consumers say they want to see more videos from brands
Nearly 75% of millennials say videos help them compare products while shopping online
Opportunities for Live Commerce -While livestreaming through Facebook, Instagram, YouTube, and Amazon is already highly accessible, there are limitations to these platforms.
For example, Instagram limits showcased products to 30 per stream. You cannot connect participants with their customer accounts to offer loyalty discounts or points for engagement. Viewers cannot add products to a favorites list or cart to checkout later. And you cannot show personalized cross-sells based on what you know about customers.
Native livestreaming -For brands and retailers who want to truly own the Live Commerce experience, adding native livestreaming to ecommerce websites and mobile apps unlocks advanced capabilities not available through mainstream social platforms.
By connecting customer accounts and loyalty data to the Live Commerce experience, native livestreams can be hyper-personalized with product recommendations and offers. Stream shoppers can enjoy the same cart, promotions, checkout, and flexible payment options (such as pay-with-points) available on your website and app. In addition, you retain the ability to retarget shoppers who did not convert during the live event. Merchants can also let at-home shoppers co-shop with in-store staff.
Why microservices for Live Commerce? -Live Commerce presents an exciting new consumer touchpoint. Microservices let you bring relevant capabilities of your commerce platform seamlessly into the livestream experience.
Connect your catalog -Let viewers search and browse your entire catalog within the stream, or limit recommendations to only products relevant to the theme. Use geolocation to show the right pricing to each viewer. Add a search box to let customers build their carts and compare products. Or, let customers add products to a wishlist or cart to purchase later.
With real-time inventory, show remaining units in stock during flash sales, and let customers sign up for restock notifications for products that sell out during the stream.
After the event, you can embed on-demand livestreams in mini-players on relevant product pages and other content sections of your site and keep them shoppable. You can also make them discoverable through search alongside products.
Connect customer service -Unlike social platforms, owning your stream enables you to connect shoppers to live help agents and chatbots. Because the stream happens in your own domain, customer information is already at your agents' fingertips. You can also bring live support agents into your chat window for group Q&A.
Gamify the experience -Taobao Live makes Live Commerce fun with multiple ways to earn loyalty points and other rewards. Users earn 'intimacy points' for app sign-ins, metered points for time spent watching streams, coupons for inviting friends to the stream, and bonus points for friends' engagement. Because users are already logged in and authenticated, points and coupons are automatically added and available to customers as they participate.
Innovative brands can explore adding "spin-to-win," trivia, challenges, and other gamified features, and enable customers to give points and 'karma' to each other for helpful chats or recommendations (like Reddit Gold or YouTube Superchat dollars).
The live auction model is another area to explore. Let participants bid on hard-to-find products, or play 'dutch auction' where the price of a product drops incrementally until it is sold. Streaming platforms can also be used to host peer-to-peer sales, where viewers take the podium to sell their pre-loved items with the merchant taking a percentage of the final sale.
Make customers the host -User-generated content accounts for 51% of livestreamed video on mobile devices. Give customers the opportunity to host their own streams and earn rewards for driving sales. Alternatively, take a Clubhouse approach and allow multiple livestream participants to 'take the stage' for their turn reviewing products, sharing usage tips, or other engagement.
China's Pingduoduo already enables app users to host their own Live Commerce events and earn 1% to 80% commissions for sales made to friends and followers.
Embrace the trend today -The ready-to-launch livestreaming capability within Infosys Equinox enables you to natively host shopping events on your website or mobile app, fully integrated with your commerce technology.
Download - the complete e-book to explore how Infosys Equinox, with its agile and adaptable microservices architecture, can enable your business to adapt to global consumer trends, new platforms, and novel business models, no matter what is on your digital roadmap.
References: