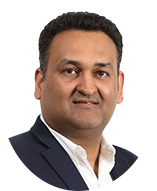 Kunal Puri
Head, Customer Success
Infosys Equinox
In Asia, super apps have become the new way for consumers to manage their daily digital journeys through a mobile phone, aggregating multiple stand-alone apps and services into one ecosystem. Users can book rides and appointments, order food, manage banking and personal finance, arrange travel, follow influencers, instant message, and of course, shop.
To provide this full range of utilities, many super apps open their platforms to third-party mini-apps that live within the ecosystem. Bringing popular services together in one place removes the friction of downloading multiple apps, managing logins and passwords, and ping-ponging between utilities (while saving device memory to boot). Mini-apps are lightweight and can deliver fast experiences even in areas with lower connectivity.
Notable super apps include GoJek and Grab in Asia, Tata and Reliance Jio in India, Yandex Go in Europe, and Careem in the Middle East. When it comes to commerce, China's WeChat is the most advanced super app. 18% of WeChat mini-programs are shopping related.
WeChat's e-commerce traction - WeChat offers a glimpse of what the West can expect from super app commerce. WeChat already boasts over a million mini-programs and 1.2 billion active monthly users. 78% of people in China aged 16-64 use WeChat and spent 1.6 trillion yuan (~ US $250 billion) through the platform in 2020 (growing 100% year over year since 2019).
Farfetch, Lululemon, Nike, and Gucci are just a few of the leading brands who have already built WeChat mini-programs for the Chinese market. WeChat serves as a federated ecosystem across mini-programs, user accounts, and chat, and opens the door to new collaborative experiences.
For example, Farfetch teamed up with mega-influencer Mr. Bags to connect his personal wishlist from his WeChat profile to Farfetch's mini-program. Fans can shop his profile and place orders with WeChat Pay without leaving WeChat.
Buyers browsing the New Releases section of Farfetch's mini-program can also see Mr. Bags' wishlist and recommendations, and view livestreams featuring the influencer.
Opportunities for super apps - Commerce within messenger apps
Super apps pave the way for new shoppable moments within messenger conversations (the new m-commerce). For example, a friend may suggest a wine within a chat conversation. With one tap, the super app can find the best priced option from merchant inventory across its database. Without leaving the conversation, the friend can purchase the wine using payment information stored in their e-wallet.
Super apps also enable group buying and group pay. Friends can contribute to a purchase with micropayments debited from their e-wallets within a group chat or through a user's profile and shopping wishlist.
Merchants may also leverage messengers to support e-gifting. Customers can purchase gifts for their friends and notify them through a text message. Recipients can accept the gift as-is or convert its value to store credit and exchange the gift before dispatch.
In-store experiences – Scan-and-go self-checkout is a top use-case for in-store mobile. Walmart China says more than 30% of its in-store transactions are made through its WeChat mini-program. 15 Both Walmart and Uniqlo allow shoppers to scan QR codes and opt for ship-to-home, unlocking endless aisle capabilities for out-of-stock products.
Super apps can also make in-store event and service bookings easy. Lululemon already allows its mini-program users to book fitness classes or join livestream classes with popular fitness influencers.
Unmanned retail - The world is a showroom, and simply snapping a photo can match consumers with hundreds of products through image search. Syncing your product catalog, inventory, and store locator services with super app platforms gets you in on the action.
Since mini-apps can support QR code scanning and mobile self-checkout, they can be used to turn pop-up showrooms, subway ads, smart vending machines, print media and more into transactional touchpoints.
Why microservices for super apps? – Microservices give you the ability to extend key commerce components such as catalog, pricing, promotions, accounts, loyalty, and inventory outside your website, and repurpose them to suit the unique specifications of multiple super app ecosystems. Each service can scale independently and support any surge in usage (such as an hour-long livestream event within the super app).
Accommodating super apps – It is critical to have the flexibility to adjust your business logic to suit the requirements of the super app. This means the capabilities of your own website and your special sauce may not be perfectly replicated in the super app.
You need to keep in mind certain factors for super apps to integrate with your existing systems:
Mini-apps have size restrictions. For example, WeChat limits mini-programs to 10MB. You may need to build tightly focused mini-apps around specific capabilities.
Some actions may be best completed on your own site. You may need to strategically redirect shoppers out of mini-programs in certain areas.
Based on how an app's e-wallet formats address, telephone, and credit card numbers, you must tighten or loosen requirements on checkout information.
You may lose the ability to collect additional information like greeting messages, delivery instructions, or SMS/newsletter opt-in in the checkout flow.
You also may not be able to support the same complex promotional rules that your web and mobile apps enable.
Evolving with super apps - As super apps continue to evolve shopping capabilities, you can expect the rules to regularly change within each ecosystem. Flexible microservices ensure you can quickly configure and reconfigure logic to ensure you are in-step with every update, and version of your mini-apps to suit each platform.
You could assign mini-apps to dedicated product teams that can manage their development roadmaps independently. These teams can leverage the same services as your core commerce and mobile teams and make changes without cross-application testing or impacting the work of another team.
Closed-loop commerce - Integrating your own technology with super apps is critical to unify your customer experience and ensure super apps do not become a data or communications silo. For example, many super apps do not currently support push notifications and other value-added customer service features. Microservices enable you to take data from the super app and integrate it with your post-purchase and marketing capabilities.
With microservices and flexible business tooling, you can customize reporting dashboards around insights the super app does not provide. For example, what mini-app features are invoked most often? What are the usage patterns across user groups? Do mini-app users shop across channels, and how does this impact end-to-end customer journeys?
Some super apps may provide you with enriched customer data gleaned from their engagement across the entire ecosystem including other mini-apps. This data can be valuable to connect back to customer profiles, loyalty programs, personalization engines, and marketing campaigns.
Embrace the trend today - If you're ready to explore mini-apps, Infosys Equinox can help you launch and version solutions for one or many super apps and build custom dashboards to unite data across the customer journey.
Download - the complete e-book to explore how Infosys Equinox, with its agile and adaptable microservices architecture, can enable your business to adapt to global consumer trends, new platforms, and novel business models, no matter what is on your digital roadmap.
References: