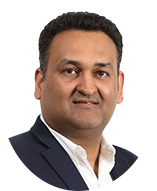 Kunal Puri
Head, Customer Success
Infosys Equinox
While group buying sites like Living Social and Groupon have lost steam since their early 2010s heyday, the trend is making a comeback in Asia. China's third largest ecommerce company, Pinduoduo, is reviving group buying – with a twist.
With what's been dubbed a C2M model (customer-to-manufacturer), Pinduoduo offers team purchase pricing throughout its catalog of everyday grocery and CPG products.
Piggybacking off the network effects of WeChat's large user base, messenger, and e-wallet capabilities, Pingduoduo enables customers to recruit friends and strangers to join their team buys through chat, voice notes, and QR code sharing.
A discounted order will not ship until the minimum number of buyers have joined. This motivates the whole team to recruit more buyers to maximize their chances of earning the deal.
The C2M model is proving to be a huge success for buyers, brands, and Pingduoduo itself. Buyers win with deeper discounts, sellers benefit from volume and lower customer acquisition costs, and Pingduoduo keeps customers loyal. The app serves over 788 million active buyers, which is more than Alibaba and nearly 3 times as much as Amazon in 2020. And unlike Groupon and Living Social, this has made team buying truly social with additional features and gamification. Translated to English, Pinduoduo means "together, more savings, more fun."
Turning fun to savings - Pinduoduo uses several gamification tactics to keep its app sticky. For example, spin-to-win games reveal coupons that expire within a few hours. Users can log in frequently throughout the day to play. They also receive point rewards for daily check-ins and metered rewards for activities and time spent in the app.
Lotteries work similarly to a team buy. Users recruit players who pay a small fee to join the pool. If the pool grows large enough, cash prizes and other freebies are awarded to lucky winners.
Users also gain points for recruiting new app users and collect points when recruits make purchases. Points can be redeemed for cash or product. Leaderboards track members with the highest score or hongbao ranking.
Mini-games also keep customers coming back. The Farmville-esque Duo Duo Orchard game has over 11 million daily users. Each purchase contributes water drops that nourish virtual trees until they sprout real, redeemable produce rewards that ship directly to homes. Players can give or steal water drops from friends or unlock them from brand pages.
Opportunities for Group Buying 2.0 – Western brands are already exploring new ways to use group buying. In March 2021, UK beauty retailer Feelunique launched a six-day campaign through its WeChat mini-program that offered shoppers a set of six Caudalie skincare products at a 37% discount if they could bring a friend to buy the same product at the same price.
Though Feelunique's promotion was offered through a super app platform, similar promotional capabilities can be offered through a brand's own website.
For example, with flexible cart and promotions capabilities, shoppers can generate and share with their friends their own unique, conditional coupon code that applies a specific discount to a specific product within a given time period. Each friend can place their order and fully check out through the site, with order payment and processing withheld until the minimum number of buyers redeem the deal. If the deal expires before the minimum threshold is reached, each buyer can be notified to cancel their order (or continue with a lesser discount).
Western brands can also explore team buying through the combination of Facebook Messenger group chat and chatbots. Connect buy buttons and products to your chatbot and let customers checkout with Facebook Pay. In India, Meesho already enables its users to sell products to friends through WhatsApp and other messenger apps.
While, culturally, Western consumers are typically shy to sell products to friends, team buying has potential. Popular neighborhood apps like Nextdoor could be the next group buying target for grocery delivery and meal prep clubs, home and garden services, telecom plans, and smart home gadgets. Sports teams, hobby clubs, employee groups, and niche online communities may also see value in group grabs.
Why microservices for group buying? – Supporting group buying through your website or mobile app requires flexible promotions and cart and order management (at a minimum). Discounts are hyper-conditional and depend on multiple customer transactions to complete before orders can process. Building these flows through orchestration rather than backend code lets you test, iterate, and roll back group promos without disturbing your application, even if you are using a legacy platform for day-to-day transactions.

If you are looking to offer group buys on third party marketplaces and super apps, ideally these transactions are tracked back to master customer profiles. Microservices help you connect these dots and unify customer journeys and data.
Because mini-apps are typically much lighter than your own apps, you may only be able to support simple group buys, one at a time. Microservices enable you to share capabilities across your website and mini-app, with the flexibility to tailor data and functionality to exactly what the mini-app needs, and no more.
Embrace the trend today – The Infosys Equinox suite of flexible microservices and digital expertise can support any group buying experience you want, either on your own website or mobile app, or across third party channels.
Download – the complete e-book to explore how Infosys Equinox, with its agile and adaptable microservices architecture, can enable your business to adapt to global consumer trends, new platforms, and novel business models, no matter what is on your digital roadmap.
References: